As of July 1, 2017, the Index of Christian Art became The Index of Medieval Art, a decision made after careful thought and consultation with Princeton faculty, students, administration, and the wider scholarly community.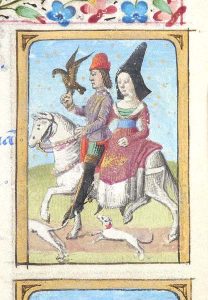 "The change reflects the broad evolution of our institution's scope and mission since its founding in 1917, when its work was limited to cataloguing religious themes and subjects in early Christian art up to 700 C.E. A century later, our records have expanded to encompass both religious and secular imagery, including Jewish and Islamic works, from the first centuries of the Common Era until the sixteenth century. The scholarly activities that we support and generate have also evolved over the years, reflecting the broad interpretive and interdisciplinary analysis that has become fundamental to the study of medieval images. Our new name signals more accurately our expanded holdings, mission, and goals, as well as our institution's broad potential to serve researchers in multiple fields of study."
The Index of Medieval Art can be accessed via this link or via the Cambridge LibGuides Databases A-Z.  (Note that though the name has changed, the URL remains the same.)
Image credit: Courting couple on horseback with falcon, Morgan Library M.73, fol. 3r. (Paris, c. 1470).